As 2015 comes to a close let's take a look at a few of the most memorable burger joints we visited throughout the year. Before we get into the winners for this year, I want to give an update on the burger blog. Starting in January 2016, we will be shifting the focus from burgers to local food destinations. This could include burgers, barbeque and anything else we can find near downtown. Hopefully we can find some good spots and if you try something please let us know!
Now onto the awards!
Best Atmosphere: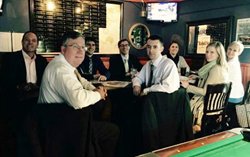 The burger spot that wins "Best Atmosphere" for 2015 is Logan's Alley. Logan's Alley is a unique, neighborhood bar located on Michigan Street just outside of downtown. Logan's is probably best known for their extensive beer list but they also have some pretty good food. What made Logan's unique was not only the bar but also the cause we were there to support. The team from Legacy Trust joined forces with the Children's Assessment Center (CAC) to raise awareness for the CAC and learn more about the vital services they provide to Kent County.
Burger Tip: Try the "Gridiron" if you like burgers with barbeque sauce. This one had a great blend of barbeque sauce, onion straws and Gouda cheese.
Most Unusual: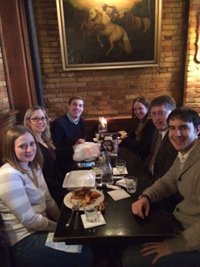 The crown for 2015's "Most Unusual" burger goes to the "Gardella" burger at J. Gardella's Tavern. J. Gardella's is a very popular restaurant and nightspot located in the heart of the Grand Rapids arena district. The main floor restaurant is reminiscent of an old Chicago tavern with wood floors and red brick walls. Now you are probably wondering what makes this burger so unusual. The "Gardella" comes loaded up with meat and then some more meat. The burger includes a burger patty, bacon, ham, a fried egg and Gouda cheese all between two pretzel buns. This was a delicious burger and will keep you feeling full for hours, maybe days. If you find yourself wandering downtown before a Griffin's game or concert this is a great place to spend some time and enjoy a great burger!
Best Burger:
Drumroll please……….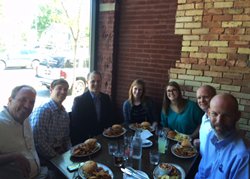 The burger joint that wins "Best Burger" for 2015 is The Winchester. The Winchester is located in the Wealthy Street Corridor of Grand Rapids, which has undergone a major renaissance over the last decade. To be honest I was not expecting The Winchester to have a great burger but I was completely wrong. The burger I decided to try was the classic olive burger. I think what set this burger apart from the rest was the olive spread that was used (delicious!), the burger patties (very little grease) and the buns (made fresh at Nantucket Bakery). I would highly recommend stopping by The Winchester next time you are in the area, you will not be disappointed!