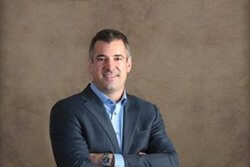 Carl Jandernoa, vice president of 42 North Partners, has joined the board of directors for Legacy Trust and Legacy Trust Holding Company.
Jandernoa brings more than 15 years of executive and leadership experience in alternative investment strategies, including real estate development and private equity, to his new role with Legacy Trust, an independent, locally owned trust bank focused on wealth management.  He was recently elected to the 13-member board of business leaders and executives within the greater Grand Rapids area.
"We are very happy to welcome Carl to Legacy Trust," William Walker, CEO of Legacy Trust said.  "Our board, employees and clients will benefit from his expertise and leadership. His deep understanding of financial analysis, alternative investments and family office operations will lend valuable insight to the organization."
In addition to his work with 42 North Partners and Legacy Trust, Jandernoa serves on the board of QT Ultrasound, a privately-owned 3D imaging company based in Novato, California. He also serves on the board of Heeren Brothers Produce, a third-generation family-owned business that specializes as a wholesaler and distributor of fruits and vegetables to retailers throughout Michigan.
Jandernoa had previously served as vice president of Bridge Street Capital Partners, LLC, a growth capital private equity firm. He has also worked for UBS and Deloitte in Chicago.
"I am happy to be joining Legacy's esteemed board of directors," Jandernoa said.  "I look forward to learning more about the challenges and opportunities facing financial service organizations, while putting my experience to work for the betterment of the organization, its employees and its clients."
Jandernoa has a bachelor of science degree in accounting from Marquette University in Milwaukee, Wisconsin.
Jandernoa is a native of Grand Rapids, where he currently resides with his wife, Kelly, and their three children.