As a consumer, you are a key part in helping small businesses thrive. By shopping or dining at small businesses, you're showing your support for the small businesses in your community.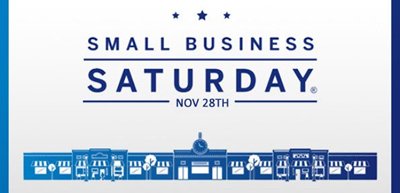 Small Business Saturday is a day dedicated to supporting small businesses across the country. Founded by American Express in 2010, this day is celebrated on the Saturday after Thanksgiving, sandwiched in between Black Friday and Cyber Monday.
The Impact of Small Business Saturday
Almost 74 million people went out to shop at small businesses on Small Business Saturday in 2012, that was 24% of the total population at that time.
In 2014, an estimated $14.3 billion was spent at small, independent businesses on Small Business Saturday. While that might sound like a lot of money, consider that over $600 billion was spent on Christmas last year.
Why is spending money in your local economy important, you ask? The money you spend locally pays off for you and your community. When you shop local, more of your money stays in your community, and is reinvested into local schools, jobs, wages and other community needs.
My Challenge
My challenge to you is to buy a portion of your gifts this holiday season from local, independent businesses- it does not necessarily need to be on Small Business Saturday.
I have made it my personal goal to buy at least half of my Christmas gifts from local businesses. A few of my favorite local shops include Papers Plus in Gaslight Village, Art of the Table on Wealthy Street, and Kennedy's Floral & Gift Shop on Cascade Road.
Now get out there and shop local!