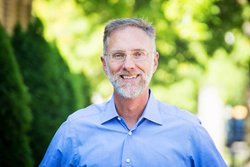 Carl Erickson, CEO of Atomic Object, has joined the board of directors for Legacy Trust and the Legacy Trust Holding Co.
Erickson brings more than two decades of leadership and management experience at one of West Michigan's leading technology companies to his new role with Legacy Trust, an independent, locally owned trust bank focused on wealth management.  He joins an 11-member board of business leaders and executives within the greater Grand Rapids area.
"We are very happy to welcome Carl to his new role with Legacy Trust," said William Walker, CEO of Legacy Trust.  "His experience in leadership and innovation will be an asset to our board, employees and clients."
"Carl places tremendous value on teaching and learning practices in organizations, which has proven to be very successful.  I anticipate we can learn considerable amounts from him as Legacy Trust continues to grow and thrive."
Erickson is an experienced investor. He serves on the investment committee for Invest Michigan! and as managing director of Tappan Hill Ventures, a boutique venture capital firm in Ann Arbor focused on disruptive software investments. He is a member and director of Grand Angels, a regional investment group that offers mentoring paired with relatively patient capital fund exit strategy and a vision of growing new Michigan companies. Erickson has been an investor in and board member of Varsity News Network, Mock Draft Central, Blue Medora and Local Orbit.
Erickson co-founded Atomic Object in Grand Rapids in 2001. The company designs and develops custom web, mobile and embedded software products. In 2012, Atomic Object opened an office in downtown Detroit and in 2013 acquired SRT solutions in Ann Arbor.
Atomic Object clients span many industries, including consumer goods, automotive, financial services, health care, furniture, education, government, nonprofit, technology and tech start-ups, entertainment, technology and agriculture. Clients include Bloomfire, Domino's, Herman Miller, Van Andel Education Institute, Gentex, the City of Grand Rapids, Deluxe, Steelcase, John Deere and Priority Health.
In addition, Erickson co-founded and serves on the board of Blue Medora, LLC, a software development company that focuses on information technology monitoring and management. He currently serves as chief technology officer of Local Orbit, a technology platform that enables institutions and restaurants to efficiently purchase from local farmers, food makers and aggregators. He is founder and immediate past president of SoftwareGR, a nonprofit trade association dedicated to improving the competitiveness of Michigan's software development community. Erickson serves on the Grand Valley State University Computing and Information Systems Advisory board.
"I am very pleased to be serving on the board of Legacy Trust," Erickson said.  "As a local business, Legacy provides jobs, reinvests in our community and gives back philanthropically. At the same time, it focuses on ensuring other local family-owned businesses continue to thrive in West Michigan. I am looking forward to working with the board, Bill and his team."
Prior to launching Atomic Object, Erickson worked as an associate professor at Grand Valley State University and as an adjunct lecturer in data communication and software craftsmanship at Uppsala University in Uppsala, Sweden. He also served as vice president of development at Deltamode, Inc.
Erickson holds a bachelor of science in electrical engineering from Purdue University and a master of science and doctorate in computer engineering from Michigan State University.
A native of Michigan, Erickson currently resides in East Grand Rapids with his wife, Mary O'Neill.